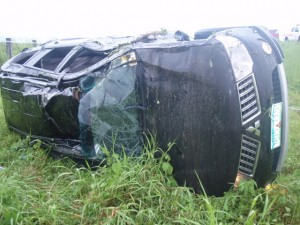 It was a rainy Sunday afternoon. Aboard our SUV, we were heading home from Pangasinan. It was a comfortable and peaceful ride as we hear the strong downpour on the roof while running at around 60-70 kph. Suddenly, a white sports car swiveled uncontrollably at the passenger side of our vehicle. I immediately tapped Gary's hand to alert him but by then we were already hit by the car. The next thing I knew our SUV tipped and skidded to the right side and as the vehicle turned turtle several times, I embraced Lia very tight as she was sleeping in my arms. All I was thinking at that time was that I hope this is not happening and at the same time thought it could be the end. During the final turn, Lia was suddenly gone. I have no idea how she fell or thrown away because all along I was holding her very tight. When our vehicle finally stopped and I saw Gary moving, I immediately unlocked my seat belt and found my way out of the vehicle to find Lia. Scared and half hopeful that she was still alive, I was shouting "Anak ko!" I went to the other side of the vehicle and looked at my right and all I saw were tall grasses. I looked at my left and there she was lying on the mud crying because of the strong rain pouring on her. Thinking back, 'Jesus on a manger' is the best description of how she was safely placed. Knee hurting, I ran to her as fast as I could, embraced her tight, checked her for any wound and thanked God she was alive.
Seconds after, my husband, 2 sons and our yaya came running at our side. My eldest son, Marcus, embraced me tight crying and yelling, "Mama, ayoko na! Ayoko na!" Zach, on the other hand, was also crying maybe from shock because he was sleeping before the incident happened. Gary and I looked at each other without saying a word but thinking the same thing, "we are all safe now." A van stopped and a woman calling to help us. She allowed the children to go inside her van because it was raining really hard and the kids are cold. Marcus doesn't want to leave me alone, but I assured him that everything is ok now, that he has to look after his two younger siblings because I'm wounded and that I love him very much. I was left sitting where I found Lia because Gary doesn't want me to move any further because he saw the deep wound on my knee. While the kids were inside the van and Gary calling for help, I tried to get up and go farther but my right knee is not helping. So I just decided to sit down and wait for the rescue to come. It was the time I got the chance to see everything that's left of us. Our 4-month old SUV was a total wreck, my phone gone and our other belongings wet and scattered. I can't help but wonder, "Why did God allowed this to happen?" But it was not anger or hatred that was in my heart at the time, it was gratitude and relief. Looking at the glass half full, I thanked the Lord and praised Him because all that were gone can be replaced.
Looking back, I don't remember anything that could have stopped us from encountering the incident. One thing's for sure though, God has prepared everything to ensure that we'll be safe and taken cared of. It was indeed a miracle. When I saw the pictures of our wrecked vehicle, it made me cry because I cannot possibly think how all of us survived.
I remember the words I said after we prayed the Our Father, Hail Mary, Glory Be and Angel of God while on the road and before the incident… "Lord, please keep us safe." He did.
We are a living testimony of His Greatness.