It is an achievement for Propelrr to bring all its regular employees to Bangkok, Thailand. It was quite an experience because we did not limit ourselves to the usual itinerary, meaning, it was a combination of planned tour and spontaneous trip. From train to Tuk Tuk (motor taxi), to rented van and river boats, even elephant ride. We've tried (as much as we can) varieties of Thai food, be it street food, mall food or buffet on a cruise. And oh, shopping!
We stayed at Bangkok Christian Guest House. The rooms are spacious and clean. It is also close to train station, mall and night market.
In three days and three nights, we were able to do shopping at Chatuchak Market, Patpong Night market and Siam paragon, see Jim Thompson Museum, ride river boat to Grand Palace, experience a luxurious River Cruise, and Ayutthaya Day tour. Fun-and-activity-filled, but yes, still a lot of reasons to go back.
More importantly, we were able to forget about work and enjoy each other's company. We hope to see more faces with us next time.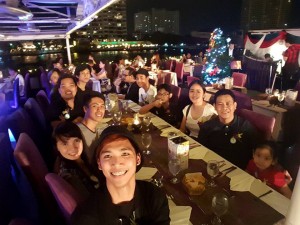 River Cruise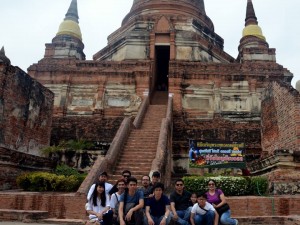 Ayuthaya